ADVANCED
PRODUCTIVITY
FINISHER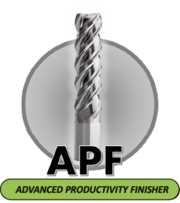 The S-Carb Advanced Productivity Finisher (APF) is a four-flute unique variable geometry finishing end mill. The APF outperforms the traditional waterline method of thin-wall machining by over 60 times, with straighter and thinner walls. The APF is the authority in aerospace aluminum finishing and has set the global standard for part quality, cost, and tool life. The KSPT Advanced Productivity Aluminum program has redefined what is possible in aluminum machining with the APF and its sibling tool the APR.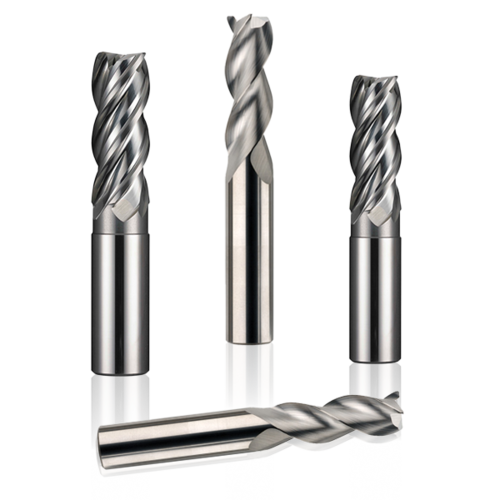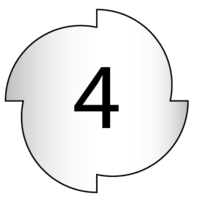 4-Flute unique variable geometry reduces vibration and allows the finishing of thin walls in one pass.
Polished flutes maximize chip evacuation and provide an enhanced finish.
Through Coolant Options

Central hole delivers coolant effectively to the cutting zone.
Enhances chip removal when pocketing or slotting.
Select fractional and metric diameters in stock.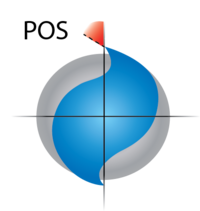 The S-Carb APF is engineered with a positive rake.
Designed for single-axial pass semi-finishing and finishing.
Two levels of chatter suppression: variable helix and indexing.
Ultra high-productivity finisher for Aluminum alloys, specifically for aircraft components.
Coatings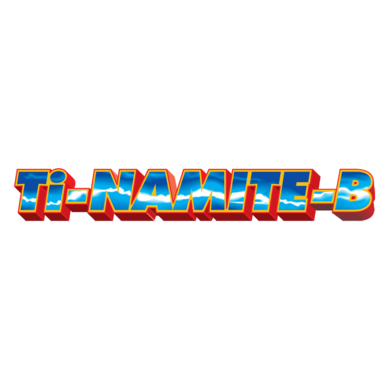 This ceramic-based coating ensures a smooth surface and a low affinity to cold welding or edge build-up, which makes it optimal for aluminum and copper applications. It has high toughness and high hardness.
Lineup Details
Cutting Diameter: 1/2"-3/4" | 6,0 mm - 25,0 mm
Length of Cut: 1 1/4"-3" | 24,0 mm - 100,0 mm
Overall Length: 3 1/4"-5 3/8" | 58,0 mm - 175,0 mm
Shank Diameter: 1/2"-3/4" | 6,0 mm - 25,0 mm
Reach: 1 5/8"-3 1/2" | 30,0 mm - 120,0 mm
Corner Radius: .030-.120 | 2,0 mm - 5,0 mm
Coating(s): Ti-NAMITE-B
Special Options: JetStream Technology
Primary Material Applications
Industry Applications





Secondary Material Applications
Cast Iron ≥ 45 HRc
Hardened Steels < 45 HRc

Need help with an application or require sales assistance? Our field sales engineers can help you find the right solution for the job.
Contact Sales
SGS products are sold through an extensive global network of exceptional distribution partners.
Find a Distributor